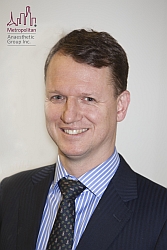 Dr. Robertson graduated from the University of Queensland in 1997. His advanced training in Anaesthesia took place in several major teaching hospitals in South East Queensland. He then worked as specialist Anaesthetist at St. Mary's hospital in London.
He now practices at several private hospitals in Melbourne, including St. Vincent's, Mercy, Epworth and Cabrini private.
Dr Robertson's areas of interest include Plastic/Reconstructive surgery, Urology, Orthopaedics and General surgery.