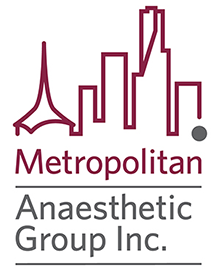 Metropolitan Anaesthetic Group
Excellence in anaesthetic practice
Metropolitan Anaesthetic Group was formed by a group of like-minded anaesthetists, with a desire to provide the best in anaesthetic practice to patients, surgeons and hospitals alike.
Our doctors are all fully trained specialist anaesthetists. As a group, they are experienced in all areas of anaesthetic practice. Our doctors pride themselves on the level of service they provide to their patients. This provides patients with peace of mind that their safety and wellbeing is of paramount concern at all times.
With our friendly and experienced staff, and modern new offices, Metropolitan Anaesthetic Group provides the level of care and support you expect.